An air curtain provides your premises with
a comfortable, clean indoor environment.
Join us on facebook


facebook/Aircurtains
In buildings and businesses where entry doors are continually being opened and closed it is necessary to prevent the undesirable inflow of cold air during winter time.
Likewise, if the building is air conditioned then it is appropriate to protect the building during summer time against the entry of hot air.

A well designed air curtain prevents the above mentioned thermal losses.
(also provides energy savings) of 75% to 85%.
Operating costs are in the power consumption of the ventilators and the unused (loss) performance of the heat exchanger of 15 to 25%.
If we calculate the achieved savings from the use of an air curtain, in the majority of cases the return on investment period is in the range of 1.5 to 3 years.

CORRECT INSTALLATION
The air curtain needs to be installed as close as possible to the opening.
The ideal installation of the air curtain is on the top edge of the door.
The effectiveness of the air curtain depends namely on the volume and speed of the air
stream coming out of the air curtain.
The volume of air blown out of the air curtain does not change with distance;
however its speed rapidly declines.
Torion non heated air curtain
900mm, 1200, 1500mm, 1800, 2000mm.
Torion heated air curtains.

900mm, 1200mm, 1500mm, 1800mm.

Heavy duty air curtain.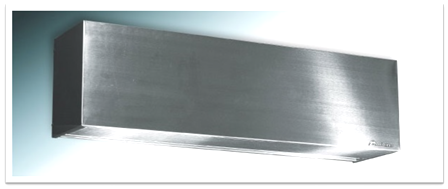 Stainless steel air curtain.
900mm, 1200, 1500mm, 1800, 2000mm.
Industrial type air curtain.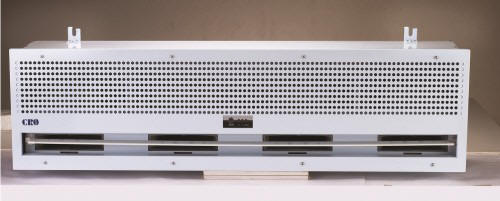 In C

eiling mounted type air curtain.
Teco air curtains.
TECO air curtains PNN-K330YA1 - 900mm 333 l/s TECO air curtains PNN-K340YA1 - 900mm 425 l/s
TECO air curtains PNN-K430YA1 - 1200mm 467 l/s TECO air curtains PNN-K440YA1 - 1200mm 600 l/s